Description
Our Striped Baby Diaper Backpack is perfect for modern parents who don't want to sacrifice looking great for convenience. With its casual elegant style and plenty of space for your baby's necessities, this diaper bag is super practical making it an excellent item for everyday use. Whether going shopping, traveling, or just being at the park or with friends, you can kiss goodbye the days of childish, bulky, ugly diaper bags. And while bags like this start at well over $120, you will leave other parents wondering how you manage to look great without breaking the bank.
Multi-function:
Our Diaper Bag lets you carry it both as a backpack or a handbag.
Thanks to the handles on the top and the straps on the back, you can change between both styles.
At the same time, with two rings on the top, you can use hooks to hang it on your stroller next time you are out and about.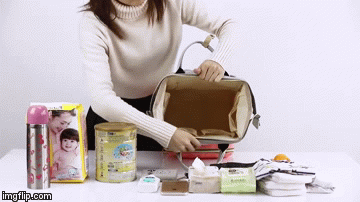 Large Capacity:
From baby formula to milk bottles and baby clothes. From diapers to towels, and everything else, our diaper bag will be the only bag you'll need with you.
Thanks to its large main pocket and many other convenient ones, your items will stay organized and within easy reach.
High-quality materials:
This bag is made from waterproof and environmentally friendly fabric that will keep you safe from milk/water and other spills on the bag when feeding the baby.
Together with the insulated bottle pockets in the front, you can rest assured your baby formula and milk bottles will stay warm for a longer time.
🔎 PRODUCT DETAILS
High-Quality Water Resistant and Easy to Clean Material
Large Center Pocket for Diapers, Toys, Clothes & More
Easy Access Side Pocket for Wet Wipes & Tissues
Insulated Front Pocket for up to 3 Bottles & Formula
Secret Pocket for Personal Valuables
Side Pocket for your Beverage Bottle
Easy Stroller Hooks
Dimensions: 25cm x 15cm x 40cm